DOWNLOAD CERES Programme 2022-2023 in brochure form
To register for courses, please use the form linked here.
INTRODUCTION
The PhD programme represents the first main function of CERES, namely, to provide educational opportunities specifically tailored to PhD researchers working in the interdisciplinary field of Development Studies or on issues of development.
CERES has been expanding its PhD course offering since 2019. We are currently offering eight courses in the 2022-2023 academic year, along with six associated courses organised by Institute of Development Studies at the University of Antwerp (IOB), which are free for PhDs from CERES members. This has been in response to demand from many PhD researchers and member institutions for more PhD-level teaching tailored to Development Studies, which is the comparative advantage of CERES and where it adds particular value to its members.
CERES also allows the possibility for PhD candidates from academic research institutions in the Global South that are associated with CERES members to participate in these courses as CERES members.
In addition to its longstanding PhD Training Course oriented towards first-year PhDs, CERES is offering an additional residential Post-Fieldwork Course oriented towards PhDs in the later stages of their degree, a course on Safety and Security during Fieldwork (offered twice, once online and once in person), a one-day Workshop on Research Problems for starting PhDs, and several thematic/methodology courses. The course calendar is as follows: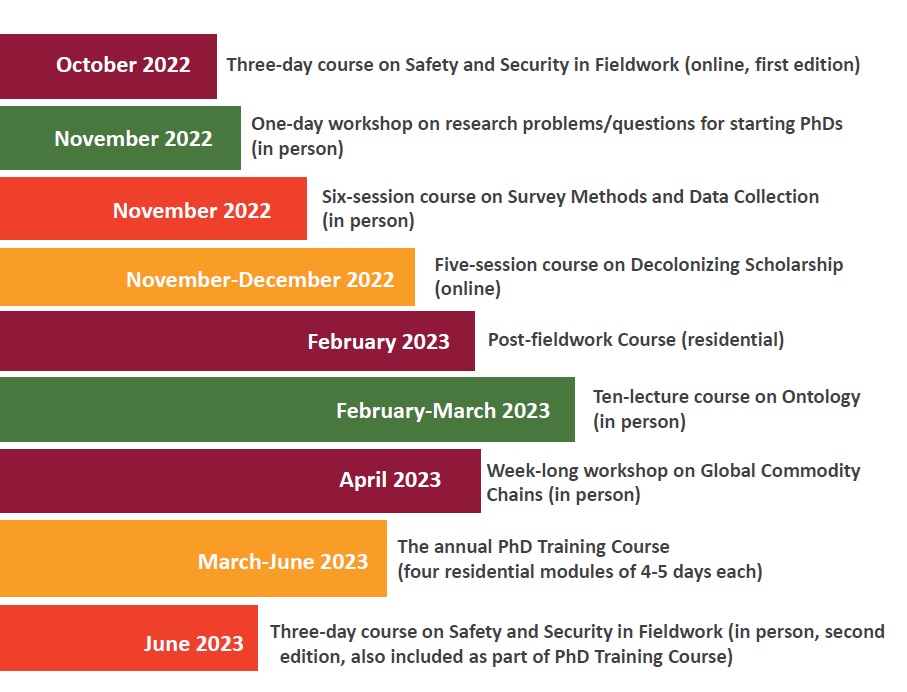 The Post-Fieldwork Course and the modules of the PhD Training Course will be held in residential form (retreat settings, including accommodation and food) or at the International Institute of Social Studies (ISS) in The Hague, with the possibility of some online options. Both courses have a tuition fee. In general, institutions pay, not the individual PhD student. All the other courses are free to CERES members (and associated Global South institutions). PhD researchers not associated with CERES member institutions can also join these courses if there are still vacancies, and upon payment of a non-member fee.
In addition to these CERES-convened courses, we are also offering six associated courses, held by the Institute of Development Policy (IOB) at University of Antwerp, with free access for CERES member PhDs. These will be held from January 2023 onwards (precise dates tba).
For details on the courses, please see the tabs linked above under the menu "PhD Programme"